A bit about me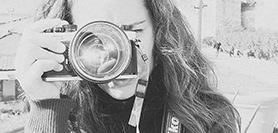 I grew up in Kythera and graduated from Athens Technical University, photography department. That is how Ι fell in love with photography in the first place. Since 2005 Ι live and work permanently in Kythera.
My second great love is the island itself, where you can find magical places. To discover them you need patience and me by your side!
My third great love is travelling. We all travel everyday, if not literally we do travel mentally through our memories waken up by a song, a smell and of course a picture!
That is how my three loves joined together to make "Travelling through time".
My ambition was not to open just another photographer`s store, but to make a place where we will have the chance to meet and talk about how we will be able to turn your memories from Kythera into dreamy pictures!
I am waiting for you!!!!